Hands-on
The Rolex Yacht-Master 42 RLX Titanium, Very Rolex Yet Surprisingly Disturbing
It is undoubtedly a Rolex from head to toe, yet it felt very surprising on the wrist...
Launched in 1992, the Rolex Yacht-Master has undoubtedly enjoyed a long shelf life but has never attained the same cult status as a Submariner. A watch inspired by the nautical world and meant to be used as a luxury yachting watch, its vocation and looks have always been slightly confusing. It looks somewhat like a Submariner but without the diving credentials. It has sporty specifications, yet it is truly luxurious and has often appeared in precious metals. Recent versions, with the enlarged 42mm diameter and the matte black bezel, changed this perception. But clearly, it's the new Yacht-Master 42 RLX Titanium that signs the independence act of the collection. We're taking a closer look at this watch that feels extremely familiar and, at the same time, left us with contradictory thoughts. Good or not, let's check this out. 
Some context
The Yacht-Master collection was introduced at the 1992 edition of the Baselworld Fair. And believe me, this was quite an event. Rolex is known for its strategy of incremental updates and rarely presents new watches. In fact, when the YM was launched, it was one of the very few entirely new collections since the launch of the Daytona in 1963. However, despite the new name (well, not entirely, as it was first used in the late 1960s on a prototype watch based on a Daytona) and its unprecedented vocation within the Rolex portfolio, the watch felt familiar.
The modern-day version of the Yacht-Master made its first appearance with the reference 16628, an 18k yellow gold version with a white dial and black-filled hour markers. Looking at it, the resemblance with the Submariner and other aquatic models at Rolex is… obvious. Some say (nothing official here) that during the 1980s, the brand experimented with many different options to revamp its iconic Submariner. Several attempts later, something close to the Yacht-Master appeared; however, Rolex felt that redesigning the Sub was probably not the right move. Yet, the design caught people's attention but had to be slightly updated so as not to cannibalise the all-important Submariner. The decision was made to position this design as a higher-end, luxurious nautical model.
The differences were straightforward: steel, 300m water-resistant case, black bezel, black dial and instrumental characteristics for the Submariner compared to the gold; 100m water-resistant case, bright dial, solid gold bezel, more rounded shapes and luxurious touches for the Yacht-Master. However, the visual resemblance persisted, which is probably why it took many years for the YM to become a model on its own. An important moment in the history of this watch is, to me, the introduction of the reference 116655, an Everose model with a matte black dial, a matte ceramic bezel with raised numerals and the Oysterflex rubber bracelet. This is the moment when the YM became different… and much more attractive.
Since then, Rolex has gradually improved its nautical watch with the release of the Yacht-Master 42 – a new size, larger than a Submariner, to differentiate the collection. It would later be followed by a very appealing yellow gold edition.
The Prototype Yacht-Master 42 of Sir Ben Ainslie… In titanium
The current RLX Titanium edition of the Yacht-Master 42 doesn't spring out of nowhere. It has existed for about three years already, but only as a prototype, on the wrist of legendary sailor Sir Ben Ainslie – winner of the 34th America's Cup with Oracle Team USA in 2013, four-time Olympic champion, CEO and Skipper of INEOS Britannia and skipper of the Great Britain SailGP Team. This watch came to us as a surprise long after its creation in 2020. Despite appearing in the wild repeatedly, we only noticed its existence in late 2021, after it was mentioned in an interview on October 2020 in The Week. It was also mentioned in the official Rolex print magazine.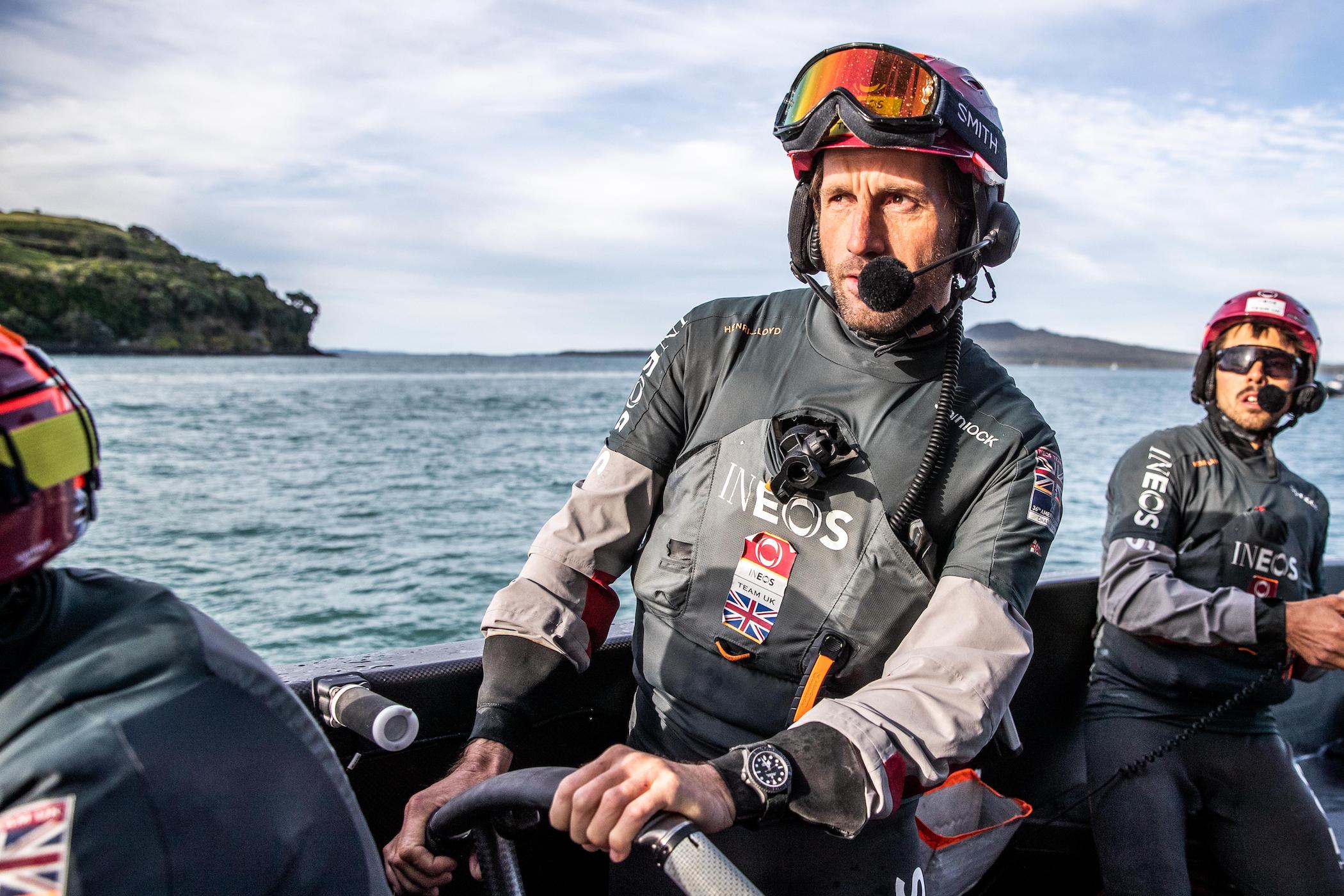 The watch in question, a prototype made exclusively for Ainslie for a very specific purpose and designed to be tested on the field, was made in RLX Titanium (back then an unprecedented material for Rolex, which would later be used on the Deepsea Challenge) and looked like a deluxurised version of a well-known watch. Entirely matte, equipped with a black dial and black bezel and with a no-date display, it was worn on a technical NATO strap, which according to the brand, combines Cordura with high-performance elastomer and is closed by a Velcro for easy adjustments.
The existence of this watch immediately gave us some ideas, incorporated in our 2022 Rolex Predictions featuring a titanium Yacht-Master. And as we anticipated, it became a reality this year.
The Rolex Yacht-Master 42 RLX Titanium
This year, Rolex launched its commercial version of the Yacht-Master 42 Titanium, which resulted in a slightly different watch from what we've seen on the wrist of Ainslie. More in line with the current white gold and yellow gold YM42, the watch has many distinctive features. It isn't just a titanium attire; it is a standalone model with its specificities and unique features.
First of all, let's talk titanium at Rolex. The brand, over the years, has been using an array of metals – steel, with its own Oystersteel alloy (904L), gold in all possible colours and even proprietary alloys and platinum. Ceramic has long been used too, but only for bezel inserts. Rolex has never used ceramic or any other high-tech material for its cases. Until the recently introduced Deepsea Challenge, titanium has remained a rarity, used for the caseback of the Sea-Dweller Deepsea and for the Pelagos, which isn't a Rolex but a Tudor, so it doesn't really count.
Now, in less than six months, Rolex has released two watches made entirely of titanium, with an alloy named RLX – which is grade 5 titanium. One is a beast, a gigantic timepiece made to explore the deepest point of the oceans – a watch, objectively speaking, that is hardly wearable. The other one, the Yacht-Master 42 RLX Titanium reference 226627, is certainly one of the most comfortable models in the brand's collection.
As said, the YM42 Titanium is more than just a new material applied to an existing watch. Of course, it shares multiple elements with its gold siblings, but some details truly set it apart. The case measures 42mm in diameter with a fairly contained 11.60mm thickness. Measuring 50.3mm from lug-to-lug, it's not the smallest watch in the brand's portfolio and wears slightly larger than a classic Submariner (40.5mm x 12.5mm x 47.6mm). All parts of the habillage are made of titanium, from the monobloc middle case to the crown, the rotating bezel, the caseback and the bracelet. The specifications are classic Rolex Yacht-Master, with a Triplock crown with integral guards, a screwed back, a sapphire crystal with AR coating and a Cyclops lens over the date and 100m water-resistance.
Classic features of the YM have been retained, such as the bidirectional bezel with a 60-minute Cerachrom insert. The latter sticks to the classic look of the collection, with a matte base and raised, polished numerals and markers without a lumed index. What makes the Yacht-Master 42 RLX Titanium so special, then? Well, first of all, the case features one very appealing detail: bevelled lugs. A nod to the past, this feature is exclusive to this titanium version and brings more dynamism to the case, as well as providing a nice historical reference – something that Rolex fanboys will surely appreciate (I do…). The second specificity of this model is its matte look. But I'll come back to that point later.
The dial of this titanium YM42 is, however, classic. It retains most of the attributes of the white gold reference 226659, with oversized applied markers and hands in polished white gold and all tracks and printings in white. There is not a single touch of colour on this dial, which comes in a new colour named intense black, with a fine satin finish. Matte, with a velvet-like texture, this dial isn't pure black like most of the watches in the brand's collection but feels more like a very dark anthracite. Combined with a flat sapphire crystal with AR coating, the result is an almost complete lack of reflections. And the overall legibility, thanks to large markers and great contrast, is superb.
Inside the case is a classic Rolex movement, the calibre 3235 – used in the Submariner Date, the Datejust 41 and 36, the Sea-Dweller or the Deepsea. A Superlative Chronometer (meaning certified by COSC and then by Rolex once the movement is encased), this automatic movement comes with all the recent innovations of Rolex: a bidirectional rotor on ball bearings, a Chronergy escapement, a paramagnetic nickel-phosphorus pallet fork and escape wheel and a paramagnetic blue Parachrom hairspring. It beats at 4Hz, stores a comfortable 70h power reserve and features an instantaneous date and a stop-seconds mechanism. Simply one of the best time-and-date engines on the market.
The bracelet of this new Yacht-Master 42 is also made of RLX Titanium. A classic 3-link Oyster style, it is also entirely matte with a so-called technical satin finish. Contrary to most Oyster bracelets, the sides are also matte, and only the Coronet on the clasp is polished. As you would expect, it is on par with Rolex quality standards, with an Oysterlock folding safety clasp and the Easylink comfort extension link to adjust the bracelet length by approximately 5mm. Also, this bracelet includes patented ceramic inserts inside the links to enhance its longevity and flexibility on the wrist.
Some thoughts… It is a disturbing watch (but a good one)
When you've been into watches for some years, you develop some preconceived notions about Rolex timepieces and the way they look and feel on the wrist. There's a certain heft, a presence on the wrist, consolidating the perception of quality and solidity. There's also a sheen that is unique to Rolex, with glossy bezels and dials. Rolex watches are so emblematic that your brain is pre-formatted to a certain conception of what they should look and feel like on the wrist. The Rolex Yacht-Master 42 RLX Titanium changes everything and breaks the norm. And it left me with mixed feelings, but not necessarily in a bad way.
When you take a Submariner and strap it around your wrist, it feels like home… It's reassuringly heavy yet comfortable. Even though weight might be a bit irrational, weight adds to the feeling of quality and weight robustness. Having worn Rolex sports watches on so many occasions in my personal and professional life, I expect a watch from the Crown to weigh about 150/160 grams on a bracelet. It is a construction that is so deeply embedded in my brain that the moment I strapped the YM42 Titanium, I was left with a very disturbing sensation.
Yes, the watch looks like a Rolex, but it doesn't feel like one on the wrist. It's about 35% lighter than steel (around 100 grams), and everything I associated with how a Rolex should feel on the wrist simply vanished. I don't want to sound too dramatic, but believe me when I say that it was a rather special experience at first. But the beauty is that you soon forget about this first impression and enjoy a watch that is surprisingly light. Despite its size, it is extremely comfortable and balanced. A watch that you'll forget in about 30 seconds after you strapped it on the wrist. The initial feeling of a lack of robustness is, of course, just a misinterpretation of a pre-formatted brain and has nothing to do with the actual heft of the watch.
The second surprise with this watch is how it plays with the light and its lack of reflections. As said, most sports Rolex have a certain sheen. Even a Submariner or a Deepea feature glossy, reflective parts, such as the bezel and the sides of the case and the bracelet. The Yacht-Master 42 RLX Titanium is the most matte watch in the brand's collection, with only a few polished accents (numerals on the bezel, bezel rim, and crown guards). Even the bevel on the side of the lugs is satin finished. This lack of sheen is definitely something new to Rolex and, far from me to complain, makes this model one of the most discreet and instrumental in the collection. It's monochromatic, light on the wrist, and despite a size that I would have loved to be a bit smaller, a real joy to wear. It's not a poser's watch. The Yacht-Master 42 RLX Titanium is a tribute to when Rolex watches were made for a job. Yes, I'm very positive about this new release.
Availability & Price
The Rolex Yacht-Master 42 RLX Titanium 226627 isn't yet available at retailers but will be soon. At least, on paper, as it won't be easily accessible, even by Rolex standards. The brand doesn't communicate production numbers, but we've heard that this will remain, for now, a rather exclusive model. It is priced at EUR 13,900, CHF 13,400 or USD 14,050. More details at rolex.com.
https://monochrome-watches.com/rolex-yacht-master-42-rlx-titanium-226627-hands-on-review-price/